I have SO many things that I would LOVE to blog about ALL DAY LONG, however my days are a balancing act between shoots, weddings, edits, meetings, phone calls, family, etc, etc!!!! I'm just excited that I can find the extra little time to sit back, have a glass of wine and re-live all of these precious memories. Have I mentioned that I have the best job in the world?
Jamie and Josh are another couple that will FOREVER be part of my life. They willingly came to my home just weeks after the arrival of my twins (I'm SUCH a stickler for meeting in a professional environment). We talked weddings, family, business (they own a new independent pharmacy, Dilworth Drugs) and very interestingly talked about Josh's recovery from Leukemia. They are an amazing couple with a PHENOMENAL story. I hope to see them share their story with many others – SOON!
Wedding Day (of course) was quite emotional. The ceremony took place at St. Peter's Episcopal followed by a chic, uptown reception at Founders Hall. Our go-to makeup/hair company, The Look, had our girls and bride dazzling! By Design Events came in and provided all of the red hot lighting & draping. Classic Party Rentals delivered stunning chocolate pintuck linens while Elizabeth House Flowers topped them off with gorgeous floral and candle arrangements ("David…those roses were UNREAL…the most magnificant I've EVER seen)! We worked along side of SFS Productions and cannot wait to see the masterpiece that Scott creates. And last but not least – those Weddings and the City girls were OFF THE CHART amazing! Go Heather, Cortenay & Jill! Ya'll ROCK!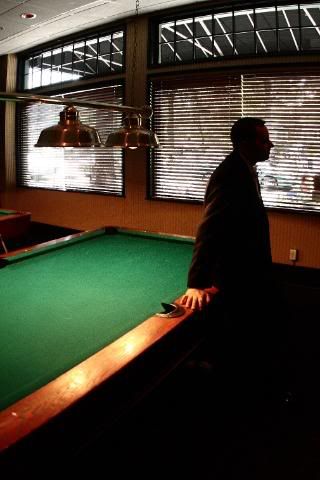 Oh la la!!! Work that camera, Jamie!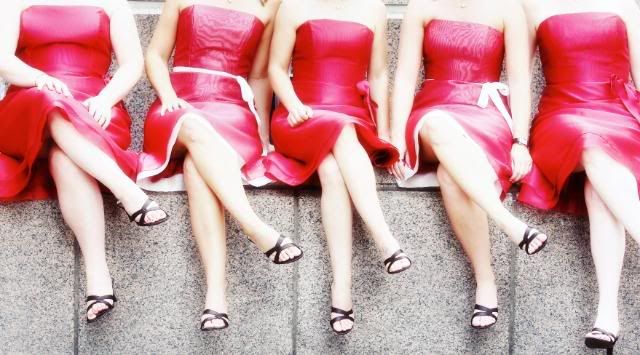 Two single stemmed roses were placed on the right front pew in memory of Josh's parents. Remarkably moving!

Straight out of Reservoir Dogs! Yes, tough guys get runny noses too!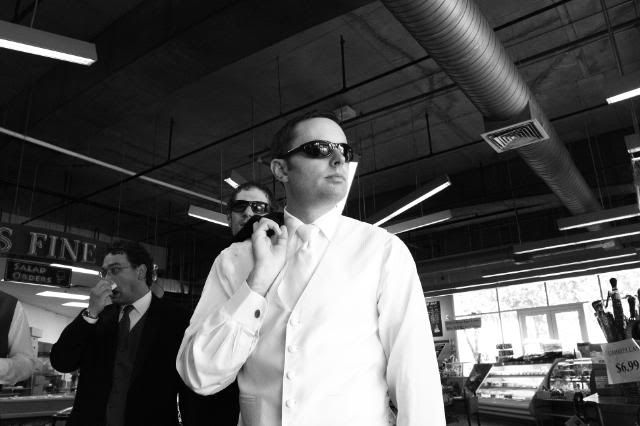 Gotta love your groomsmen!!

A LIVESTRONG send-off in spirit of Josh's AMAZING JOURNEY!


Okay – so I've seen & heard the "Who Let the Dogs Out" type of reception introduction music, but "The Simpsons" theme song is a new one! Josh and Jamie surprised their guests by having one of their groomsman voiceover the beginning of the song. Yes, they entered to, "The Rimany's……….!" SO GREAT! Josh being the 'foodie' that he is decided to have a sign also made up so that we could enjoy his dinner. Notice "The Simpsons" font as well!
Girl was CUTTIN' RUG – go, Jamie!